Production Line
Your present position:Home> Production Line
Miao Brittle Angle Triangle Production Line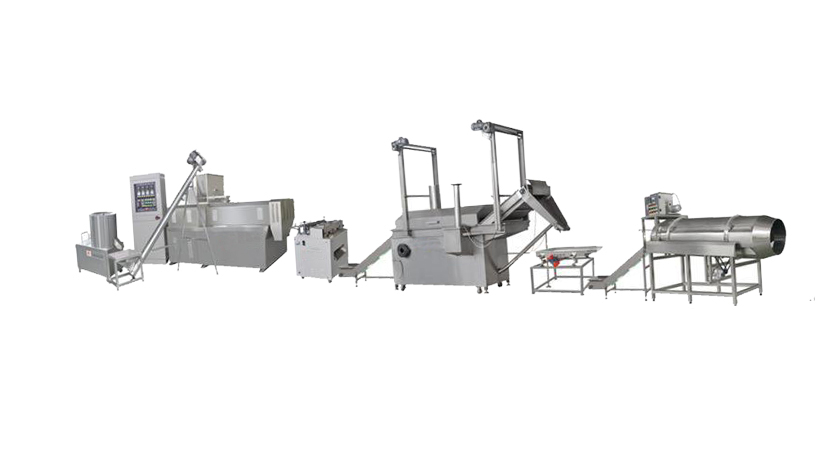 Detailed
1. Product Description:
Fried noodles extrusion production line is suitable for pressing flour and other raw materials through roller. Special mechanism is used to cut them into different shapes and make them extrude after frying. Fried and then seasoned or dried to make delicious snack food. The equipment design of the production line is reasonable and the operation is simple. This equipment is developed independently by our company. It is more three-dimensional in the shape of the product. It can also produce triangle, gourd, fish crisp, golden horn, Duckling and other products. The product has beautiful appearance, high-grade taste, fried, non-fried, crisp and instant entrance, crisp taste and rich nutrition. It is the latest pasta machinery for investors to reduce costs and earn more profits.
2. Raw materials: flour, sugar, etc., can also be added to the appropriate amount of corn, rice, etc.
3. Products: delicate crisp corners, sharp corners crisp, fish crisp, golden corns, ducklings, gourds, peanuts, pagodas and so on. In addition, it can also produce potatoes, pasta fries, salad slices, sandwich rice nuts, doughnuts, wheat-flavored chicken nuggets, nutritional powder, etc.
4. Production capacity: 80-150 kg/h
5. Production process: raw material mixing extrusion plastic cutting frying oil shaking seasoning packaging (flexible equipment configuration)
6. Machine Material: All machines are stainless steel sheets.
7. technical parameters
| | | | | |
| --- | --- | --- | --- | --- |
| Model | Installation power | Actual power | Yield | Size |
| DCGS65 | 45kw | 30kw | 100-150kg/h | 12x1.6x2.3m |
| DCGS70 | 80kw | 60kw | 200-300kg/h | 15x1.6x2.3m |
8.Sample display

· Other Products